We're hiring a Web Application Developer: MOVE Project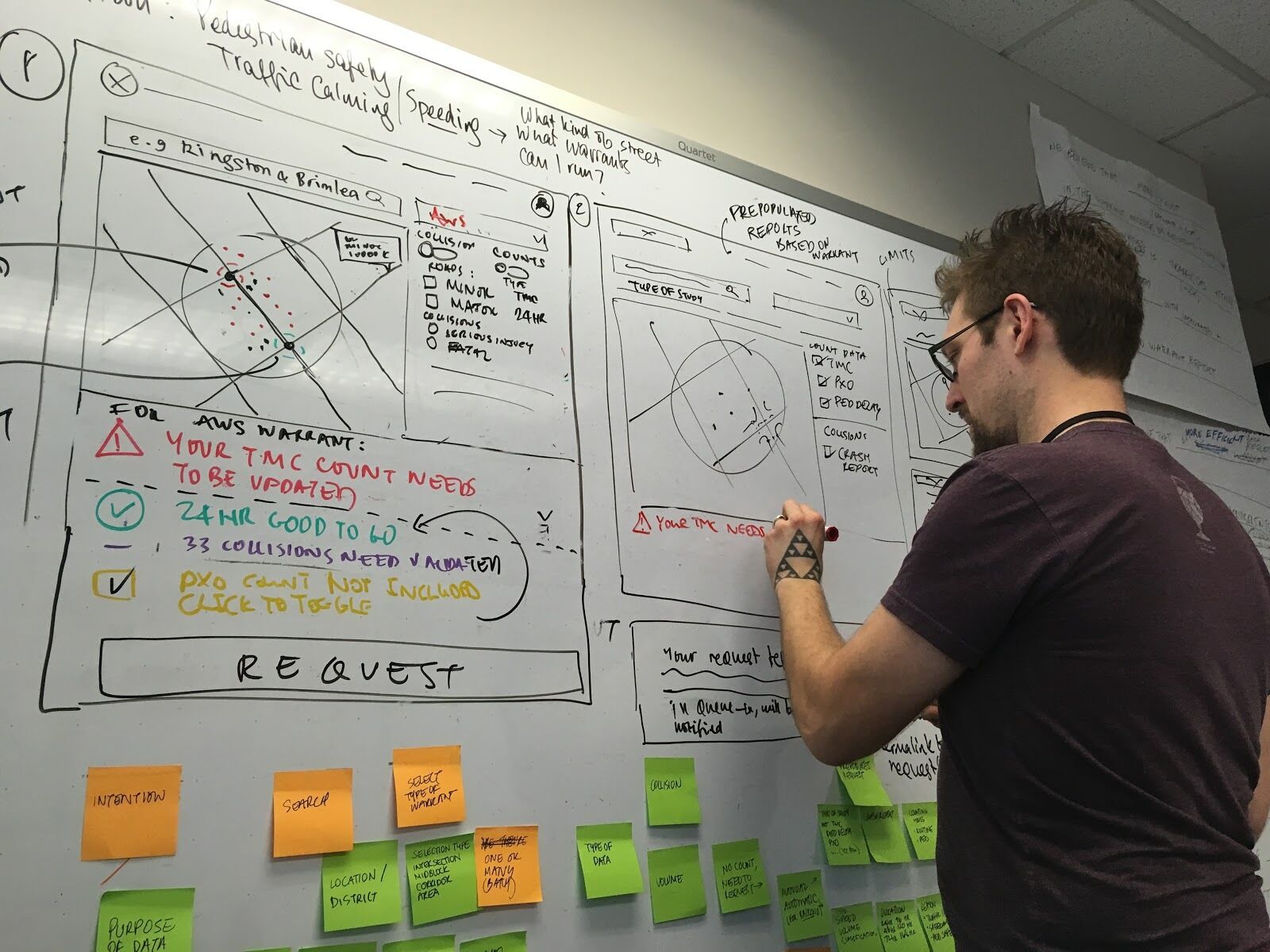 Are you a developer looking for an opportunity to use your skills for the public good? Apply to join the Code for Canada MOVE Project team. We will be accepting applications on a rolling basis until 5 p.m. ET on July 16, 2021.
Code for Canada values an environment that is not only free of discrimination, but that also respects difference and allows employees to bring their whole selves to work. We operate with an anti-oppression mindset. We maintain awareness of and continue to be sensitive to structural oppression/privilege at work and in the communities we serve. We encourage individuals from under-represented groups to apply. Disability related accommodations are available on request for candidates taking part in our hiring process. Please contact us at jobs@codefor.ca with your needs or any questions you may have around this.
What is MOVE?
MOVE is a unique collaboration between civic tech non-profit Code for Canada and City of Toronto Transportation Services. MOVE aims to reimagine the way Transportation Services manages data about road usage and safety across the City.
MOVE started back in October 2018 as a Code for Canada fellowship project. Since then, we've released MOVE to thousands of internal City staff, who use it in their day-to-day work making Toronto's streets safer.

MOVE consists of two main components:
a data platform built on Apache Airflow and PostgreSQL, which automates intake and processing of transportation-related data from both internal and external data sources;

a web application built on node.js, Vue, and Mapbox GL, which helps users more easily access, analyze, and manage that data.
We're hiring for both pieces. This job posting is focused on the web application, but if you're interested, check out our Civic Data Engineer posting.
Why is MOVE awesome?
In process and practice, we aim for a civic startup culture.
We're (small-a) agile: we test with users early and often, we iterate quickly, we deliver up front. We prefer ongoing research, discovery, and validation to up-front requirements and specs.
We're tackling a big, important problem: everyone deserves to be able to easily navigate their city, and to be (and feel!) safe as they do so. By giving City staff better tools to understand safety and mobility, we can help make it easier to improve both. We're successful when we help our users reduce manual overhead, see all the data in one place, and build a shared understanding of definitions and processes.
We work in the open: our code is open-source, our process is visible. We're aiming not just to build A Thing, but to show how it's done. We give talks and workshops, both internal and external, to help share our knowledge. We listen and learn from those around us. We work with others, not for them.
We're pragmatic: we choose technologies, tools, and processes that work for the organization around us, so that this project can outlive any single person's contribution to it.
We're a small team (for better or for worse): a Product Manager, a Designer, a Civic Data Engineer, and a Web Application Engineer (who could be you!). We're cross-functional, and prefer collaboration and discussion to formal handoffs. We believe in using the right tools, and in adding processes only as needed. (We also work closely with the Data & Analytics team at Transportation Services.)
What would I be responsible for?
You'll fully own the development of MOVE's web application. This includes:

working with the MOVE team to align web application development with product goals and vision, and to offer technical feedback on designs;

working with the Civic Data Engineer to tailor our database schema to application needs;

working with the Designer to translate designs based on user needs into functioning interfaces and experiences;

collaborating with technical City stakeholders to establish and manage infrastructure, conduct security reviews, coordinate releases, etc.
learning about the types of collision and traffic volume data used at the City, and helping make decisions on how best to harness that data to build compelling features;

planning development of new features from early prototype to production;

incorporating feedback from users to improve existing features;

planning migrations and upgrades as needed.
What would help me succeed in this role?
This is a wishlist, not a checklist! You're strongly encouraged to apply even if you don't tick all the boxes.
Personal
You're comfortable owning and driving the end-to-end development of MOVE's web application.

You're excited about working on a small team and helping to set our technical vision.

You're curious about new datasets and domains, eager to learn from domain experts and ask questions as needed.

You care more about solving problems and building robust, reliable, maintainable solutions than about using some particular technology to do that.

You are open and excited to engage in conversations about your work.
Technical
You have designed, built, and maintained production web applications.

You have worked with UI component frameworks and systems before (e.g. Vue, React, Material Design, etc.)

You have built web application backends and web services before (e.g. REST APIs, HTTP basics, etc.)

You have experience using relational databases (e.g. PostgreSQL, MySQL, etc.)

You have a strong grasp of software engineering fundamentals.

You enjoy picking up new approaches, languages and technologies.

You're aware of common security and accessibility issues with web applications, and are excited to learn more as needed.
How do I apply?
Send the following to jobs@codefor.ca:
Resume

1 page letter of interest answering the following questions

What draws you to this role?

Tell us about a product you shipped that you are particularly proud of.

What else would you like us to know about you?
Applications will be accepted until the position is filled.
Benefits and job details
Contract Type:
Contract Length:
9 month engagement (beginning August 2021)

Possibility of turning into a full-time role employed by the City of Toronto
Location:
Toronto, ON

At present working remotely with preference for those able to be based in Ontario in 2022
Salary:
$100,000 - $115,000 annual (prorate based on contract length)

Based on experience
Benefits:
Extended medical, dental, and vision per company policy
The Latest
From the Code for Canada Blog