GRIT Toronto: Putting the 'Us' in Usability Testing

February 5, 2019
Way back in 2013, I co-founded a startup called Projexity that built digital products to help social impact organizations engage their large, often public audiences. We were a typical startup in that we were a tiny (but mighty) team that moved at lightning speed to design and develop products. We worked in a lean way. We incrementally rolled out new features and versions on development timelines that were super tight.
It often felt like there was little time to do anything that wasn't implementation, and that included getting our products in front of users to gain feedback.
We knew about usability testing, and with a background in community engagement, I fundamentally understood the importance of connecting with people. But we didn't bake it into our processes because it seemed like too much of a heavy lift. Like most startups, we did usability testing in a very informal way, a.k.a. asking family and friends for input. However, if I'm being honest, that doesn't really count (sorry, mom and dad).
Now, almost six years later, with a wealth of valuable experience as a co-founder and then later as a consultant and program manager, I truly see the value in giving people the opportunity to weigh in on technology. Development teams get crucial insights into what's working and what's not working with their products, and testers feel empowered to shape technology that impacts their lives.
I wish we had done more usability testing with Projexity, and I wish we'd done it with members of the general public. They were our end users, after all.
Fortunately, the experiences and learnings from my startup days have led me to a role that I am beyond excited to be in: manager of a new usability testing service at Code for Canada called GRIT Toronto (Gathering Residents to Improve Technology).
Usability testing isn't a new idea, but with GRIT Toronto we're doing something different: civic usability testing. And to really understand the impact of our work, we need to unpack exactly how that word — "civic" — changes what it means to do usability testing.
Better testing is possible
Not all technology is the same. There are some products that are built for a very niche audience, or whose purpose is to sell something to consumers. But then there's tech that needs to reach a wide, diverse, public audience, such as a government website for veterans' benefits or a tool that helps people find and access emergency social services.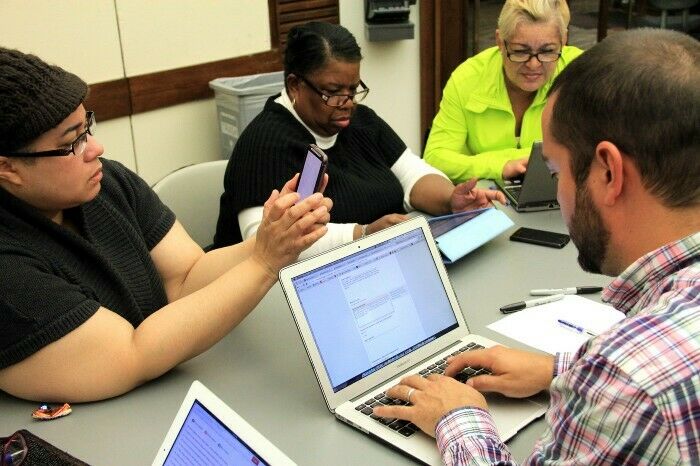 The problem is that until recently, only one kind of usability testing has been used for all types of tech. It basically looks like this: a market research firm is hired to recruit people from a pre-populated listserv, bring them to a windowless room in an office tower downtown and run a test during typical working hours. These conditions are prohibitive — or at least uncomfortable — for a lot of people, and can result in feedback that's limited at best, or inauthentic and biased at worst.
Not only is that bad for the folks building technology, it's not great for the rest of us either. When technology is built in a bubble — when products are envisioned, designed and tested by a select group of people — its benefits tend to stay inside that bubble. If we want to change that, if we want to ensure that everyone benefits from the digital products we build, we need to change who we invite to participate.
That's where GRIT Toronto comes in. By changing the 'when, where, how and with whom' of usability testing, we're turning the process on its head, and providing opportunities for diverse and often under-represented residents to weigh in on the technology that impacts them.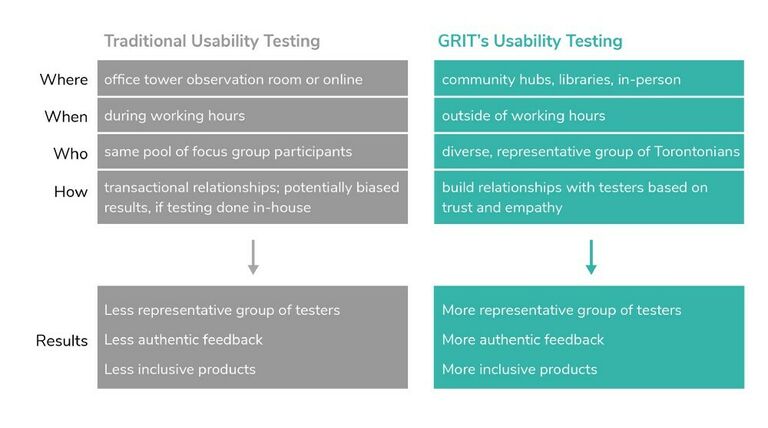 This method works. But don't just take our word for it. Civic usability testing was pioneered in Chicago by the Civic User Testing Group(CUTGroup), which has inspired GRIT Toronto from the get-go. Run by City Tech Collaborative CUTGroup Chicago gives residents the opportunity to be a part of the design process for emerging civic technology initiatives through user testing and focus groups; in just a few years, they have assembled a testing community of 2,000 residents from all 50 of the city's wards.
There's also a real appetite for a service like GRIT in Toronto. We launched recruitment for testers in late December, and already, nearly 300 residents have signed on to test technology with us! They hail from all of the city's 25 wards, and represent a diversity of backgrounds, lived experiences and technical skill levels. What unites them is a desire to shape — even in a small way — the digital products and services that impact their lives and their city.
Get to know GRIT
GRIT Toronto is new on the scene, but we have a lot to share, so check back here for posts about GRIT's methodology, tester stories, and quick takeaways from the tests we run.
We hope you'll follow along, ask questions, become a tester or even run a test with us.
Questions about GRIT Toronto? Give Marisa a shout at marisa@codefor.ca.
The Latest
From the Code for Canada Blog