Civic Tech St. John: Pitch YOU Night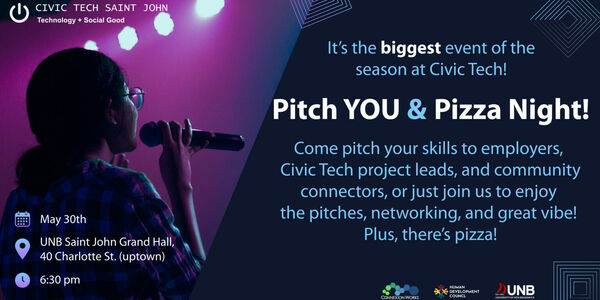 Event Details
Date & Time
May 30, 2023
6:30pm - 8:30pm
Location
UNB Saint John Grand Hall
40 Charlotte St, Saint John, NB E2L 2H6
Register
Civic Tech Saint John invites you to attend their biggest event of the season 2022-2023: Pitch YOU Night!
Companies and representatives from the main industries in Saint John and their HR departments are invited to attend and connect with a highly skilled workforce, recruit, networking, and have a meaningful experience.
This will be a great opportunity to connect with over 100 professionals/job seekers with backgrounds in IT, finance, project management, business analysis, sales, and engineering or a combination of them, among others), who will be pitching their skillset to employers, Civic Tech project leads, and community connectors.
You can register to pitch or just to attend and enjoy the pitches, networking, and great vibe!