Code for Canada's Digital Capacity Assessment Workshop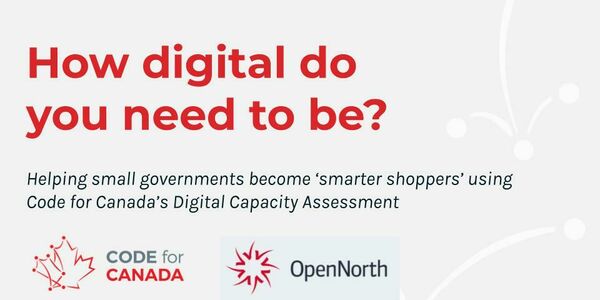 Event Details
Date & Time
December 14, 2021 - December 14, 2021
12:00pm - 1:15pm
Location
Virtual
Register
Learn how you can assess the digital-readiness of your team
The term 'digital transformation' implies a journey, an evolution on a spectrum of less digital to more digital. But how do you assess how digital your team or department already is, and how do you prioritize the skills and capacities that will move you furthest along that spectrum?

Building on the work of Public Digital and the Harvard Kennedy School, Code for Canada is developing a new Digital Capacity Assessment for government teams. Currently in alpha, the tool helps public servants identify the digital competencies that are most important in their unique contexts.
This workshop was first presented at FWD50. Here, we'll introduce the Digital Capacity Assessment and help attendees apply it to their own departments and projects. Participants will get an early glimpse of the tool, and actually contribute to its testing and development. They'll leave with a renewed sense of how to think critically about digital transformation in their roles.
Who should attend?

Anyone working on digital transformation or change management projects
Digital leaders interested in how to better evaluate digital capacity
Staff curious about how digital methods can be used in their work.
Speakers
Dorothy Eng, Executive Director, Code for Canada
Merlin Chatwin, Executive Director, Open North
📧 Keep an eye on your inbox for the Zoom meeting link — we'll be sending it to registered attendees the evening before the event. We look forward to meeting you there!

❓ If you have any questions or accessibility needs, please contact jennifer.kou@codefor.ca
👋 To stay in touch, sign up for Code for Canada's newsletter or follow us on Twitter and LinkedIn.