The Exchange Lab: Digital Showcase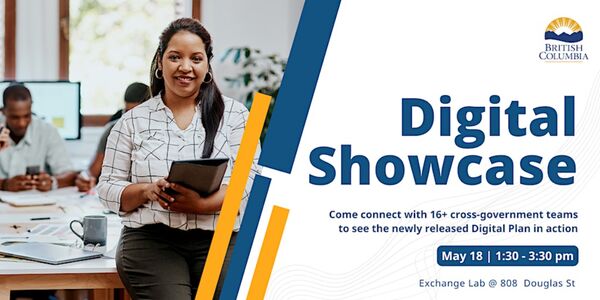 Event Details
Date & Time
May 18, 2023
1:30pm - 3:30pm
Location
808 Douglas Street Victoria, BC V8W 2B7
Register
Discover how government is embracing the future with 16+ teams under one roof showcasing their digital transformation projects. This is not just another presentation – get ready for an interactive showcase where you can learn about the potential of digital practices to improve public service delivery.
You'll witness firsthand the impact of the Digital Plan's four missions, which prioritize connected services, digital trust, reliable and sustainable technology, and equipping the BC Public Service with the necessary skills and tools for the digital age.
Don't miss this opportunity to connect with the innovative people and teams driving the future of modernization in the BC Public Service. Register today to experience their work and the power of cross-sector collaboration.