Webinar: Rules as Code 101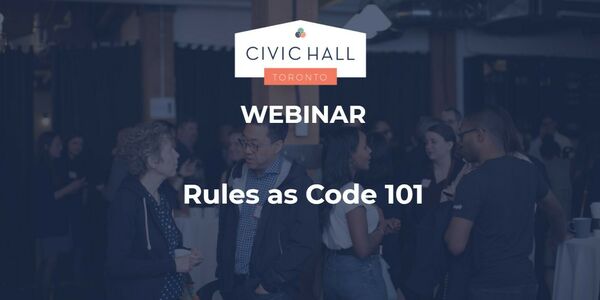 Event Details
Date & Time
May 5, 2021 - May 5, 2021
12:00pm - 1:00pm
Location
Civic Hall Toronto
Virtual
Register
How can we create and implement rules for a digital age?
Rules are an essential part of any healthy, well-functioning society, and have a large impact on legislation, regulation, and policy. Today, governments write rules for human use — these rules can be complex and difficult for individuals to understand and implement.
What if we also wrote rules so machines could understand them? By converting rules into machine readable language (code), we can reduce ambiguity and close the gap between policy intent and implementation. Rules as Code allows for more effective administration of legislation. ease in interpreting policies and improvements to the consistency and accessibility of rules.
Join us to hear from Code for Canada fellows at Economic and Social Development Canada (ESDC) to learn more about Rules as Code and how it can improve service delivery for residents.

Important Note:

This training series is Open to the General Public.
Training sessions will take place on WebEx and registered attendees will receive the event link prior to the session.
If you have any questions, feel free to contact jennifer.kou@codefor.ca