Workshop: Responsible Innovation and Critical Design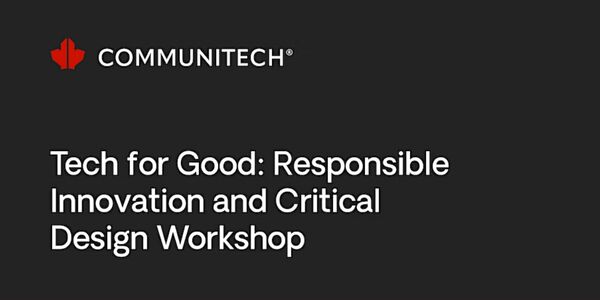 Event Details
Date & Time
January 26, 2023
11:00am - 1:00pm
Location
Communitech (Roddenberry room 3rd floor)
151 Charles Street West
#100 Kitchener, ON N2G 1H6
Register
Responsible Innovation and Critical Design
In this workshop, you will discover the essentials of "responsible innovation" and learn how to integrate critical design practices into your workflow.
What is critical design? Design theorist Matt Malpas suggests it is "less about problem solving and more about problem finding." Rather than jumping directly to solutions and efficiencies, critical designers create time and space to consider topics like environmental footprint, inclusivity, and social or psychological impacts.
This effort leads to better products that suit a wider audience and are more likely to attract investors. In this lively 90-minute workshop, participants will learn new design methods and apply them to their hack projects, all for the sake of responsible innovation and tech for good.
A light lunch will be provided during a 30-minute break.