7 Lessons from Facilitating my First Remote Proto-Persona Workshop

February 25, 2021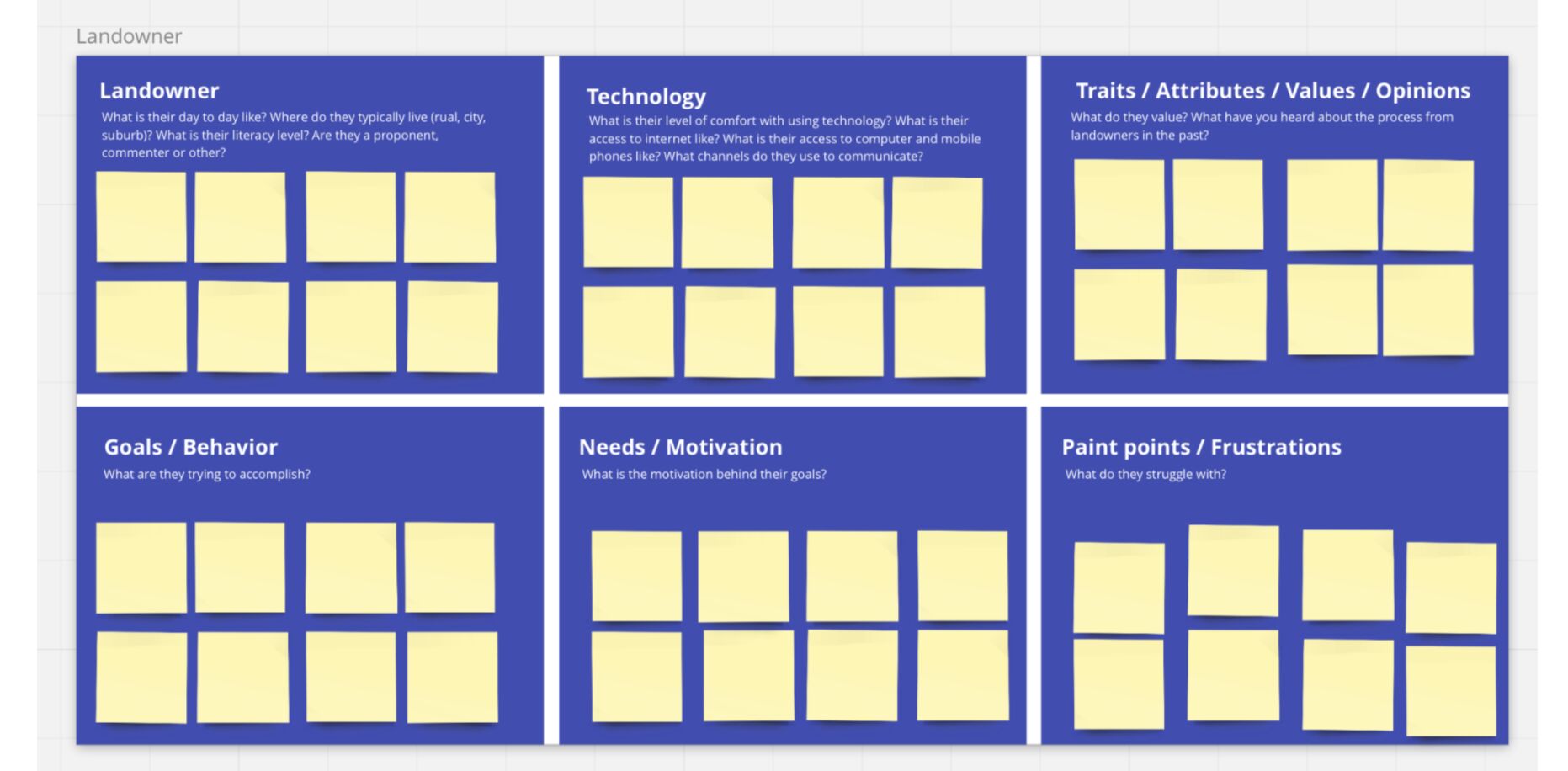 La version française est en dessous de l'anglais 👇
Hi there! My name is Gillian, and I am the UX Design Fellow that is part of the 5th cohort working at Code for Canada to improve digital governance. Alongside my teammates Malik Jumani (Product Manager Fellow) and Ian Cappellani (Developer Fellow), we are working with the Canada Energy Regulator (CER) to improve the tools that Canadians use to participate in hearings regarding energy projects regulated by the CER.
To learn more about us, click here.
When my team and I were trying to understand all the potential participants of the energy adjudication process, I decided to host a proto-persona workshop with Canada Energy Regulator's (CER) subject matter experts. This helped us prioritize which user groups to focus on in our interviews for the discovery process.
With limited time from different subject matter experts, I decided to split the workshop into two one-hour sessions. In the first session, I presented a short tutorial on how to use Miro and walked the attendees through the steps of creating a persona. We spent the majority of the time completing one persona board. I assigned the rest of it to be completed before our next meeting.
The second part of the workshop did not go the way I initially planned because of the way I set up each board. However, our team still received a lot of value from the final results and learn from the overall experience.
Lesson 1
Always assign more time than you think is necessary to complete the workshop. I originally booked two one-hour sessions with a group of eight people because it fits into everyone's schedule before the holidays started.
Unfortunately, that led me to assign different persona boards for homework, which may have limited the open discussions that could have happened.
Tips:
Book your workshop well in advance of any holidays that come up. That way you can schedule longer sessions with a group of people.
Spread your workshop out over a few days instead of having one long session.
Consider having smaller and more manageable groups. I had eight people in my session, but it was challenging to keep the workshop under the time frame I had set.
Lesson 2
Even with a lot of planning, problems might pop up during the workshop that you did not anticipate. While I created a workshop plan, I did not have time to do a detailed dry run with my team.
The second workshop deviated from my initial plan because I approached it the wrong way. I had set up the board for each potential user (e.g. landowner) seen within the participation process rather than the role (e.g. intervenor) the user takes. The latter made more sense because different users have overlapping needs depending on the role they play in the adjudication process.
Tip:
Run some practice sessions with your teammates to iron out any potential issues you might run into during your workshop.
Lesson 3
Not everyone will know how to use the latest online collaboration tools like Miro. It took a bit longer for the workshop to get started because I had to do a quick tutorial on it.
Tips:
Send out the workshop link a few days in advance so people can review it before the meeting.
Find a quick how-to video tutorial or a FAQ to send out with your scheduled workshop.
Lesson 4
People will use tools they are most familiar and comfortable with. Be open to going back to the basics if needed.
When everyone showed up for the second workshop, I was surprised to discover that some people have switched over to using Microsoft Word over Miro because of their familiarity, speed and comfort level with the tool.
Tip:
Consider what other tools you can use to facilitate a workshop beyond what you are an expert at.
Lesson 5
When you begin your workshop, reiterate your objective and why your participants are involved in this workshop.
When I started the workshop, I briefly touched upon the goals and agenda that were displayed on the Miro board, but after some retrospect, it might have been better to discuss it through a short presentation.
Tips:
Consider including a short slide deck to go over the workshop objectives and the agenda before diving in.
Send the deck in advance.
Lesson 6
Be flexible! Sometimes the workshop will not turn out the way you have expected, but the results can be equally as useful.
Our team used the information to help inform our user journey map and decide who to interview.
Tip:
Keep all the artifacts. You might be able to use it in the future.
Lesson 7
Get feedback from your participants after the workshop.
I was able to get advice on how to improve my workshop, which helped me reflect on the changes I can make in the future.
Tip:
Create a survey or feedback form to send out to participants after you finish.
You're here to help residents, and we're here to help you. Interested in how to bring digital tools and skills into your department? No matter where you are on your digital government journey, learn more about how Code for Canada can support your work.
The Latest
From the Code for Canada Blog