3 Things We Learned at FWD50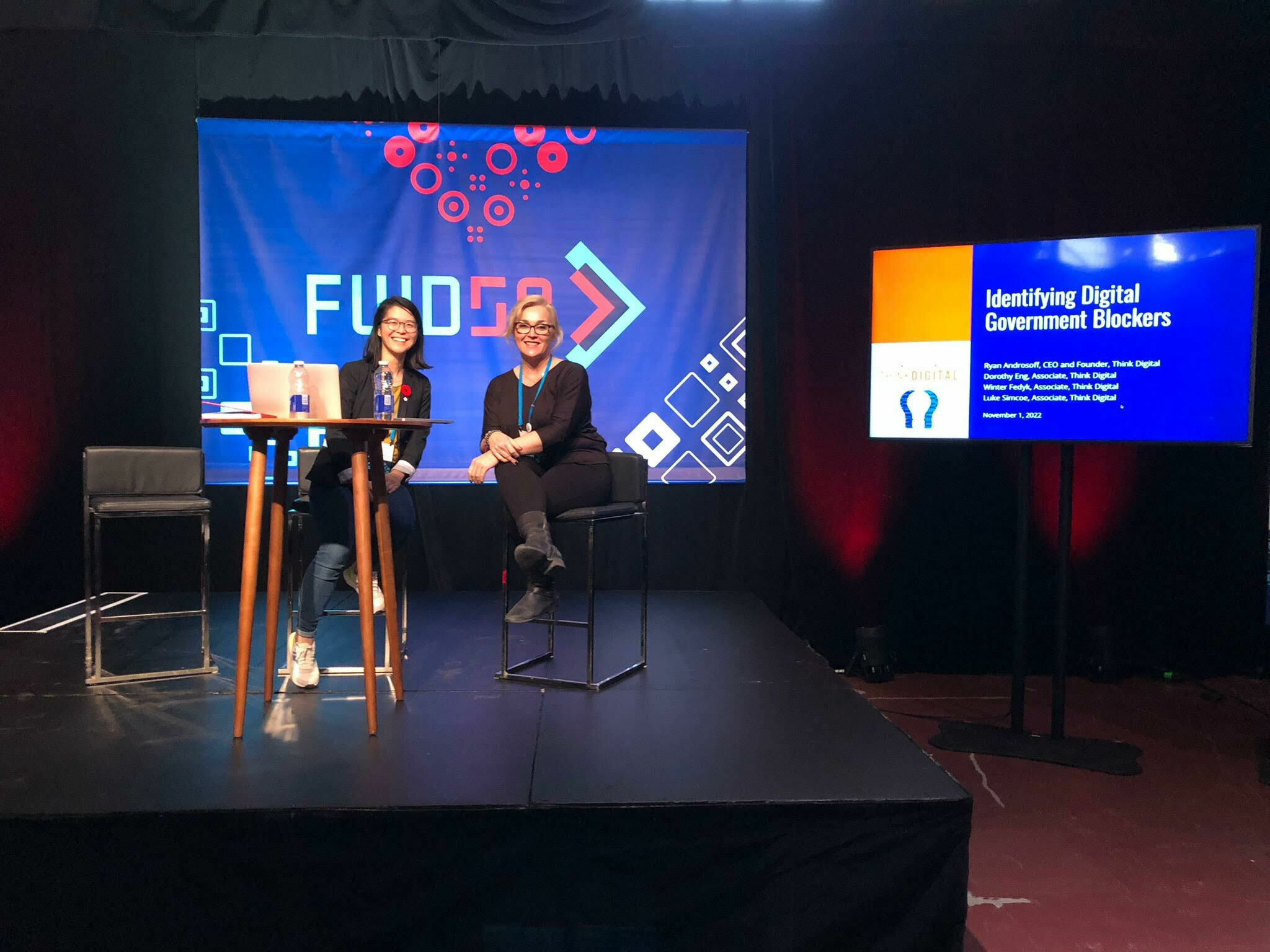 It's been almost a month since FWD50, but we can't stop thinking about it. The three whirlwind days of talks, workshops and conversations will stay with us well into 2023.
We left the annual convening energized, inspired and with a new perspective on #GCDigital and the wonderful people who invest in that community every day. We wanted to write down some of our reflections here, to see if others were thinking about the same things we were.
The power of communities of practice
Heading into FWD50, there were so many folks we were excited to connect with IRL, after months (and in some cases years!) of video calls and email chains.
One of those people was Bonita Anders, a senior manager with the Office of the Chief Coroner (OCC) and Ontario Forensic Pathology Service (OFPS).
Bonita is a dedicated career public servant, who's been with the OCC-OFPS for 21 years, and has done everything from conducting post-mortem examinations, to quality assurance practices, to pushing for digital transformation as a leader in a small but mighty government division.
We'd been speaking with Bonita for years about her work digitizing various elements of the OFPS. She always exemplified the best of what the public service has to offer — talent, drive and incredible passion for serving the public. In our conversations, she stressed the importance of creating effective digital solutions and spoke of her ideas for modernizing unifying and building faster simpler better service delivery across all platforms that support the forensic death investigation processes across Ontario.
But there was another element of our conversations that sadly, we've also become familiar with. She was isolated — like many public changemakers, she was praised for finding creative ways of doing more with less, but when she pushed for a substantial systems change, she'd find herself standing alone.
Enter: FWD50. Bonita attended her first-ever FWD50 this year, and when we connected with her on the first night of the conference, she couldn't believe how many other public servants were dedicated to digital transformation in the public sector.
She went from feeling alone to being re-energized and inspired, with new connections and ideas to bring back to her day-to-day work. Watching it happen, we were reminded how important events like FWD50 can be for connecting civil servants who share a common goal — creating a better public service for people across Canada.
Procurement sits at the heart of public digital transformation. How can we get it right?
Like many of you, we were fascinated when Amanda Clarke and Sean Boots published their research into government IT procurement. It's an issue we follow closely, as an organization that navigates procurement processes regularly.
Hearing Amanda speak about the issue at FWD50 (while proudly wearing our "Yes, I Know Sean Boots" buttons), further highlighted just how important it is to get this issue right.
$15 billion a year is, of course, a staggering number and one that will continue to make headlines. But the issue, as Clarke pointed out so well in her talk, isn't just how often government works with outside partners, but how it works with them.

Solutions like investing in attracting fresh in-house talent, upskilling existing staff, and generally becoming "smarter shoppers" are all incredibly valuable steps in the direction of correcting the current procurement practices.
We got a chance to speak with Amanda at the conference, which may just result in some collaboration down the line (watch this space!) But, it was also an example of our final takeaway from the conference…
Hybrid events can create true connection and collaboration
Like many others we spoke with, FWD50 was the first truly hybrid event we'd attended since the start of COVID-19, and we were blown away by what the team was able to accomplish.
As in-person attendees, we were of course able to grab a cup of coffee and chat with others who had trekked out to Ottawa for the week. But, in creating an environment where the in-person attendees acted as the "studio audience" for the large virtual audience watching at home, the FWD50 team succeeded in creating an event that felt truly hybrid.
We had just as many video calls in secluded corners as in-person conversations, texted with folks online during in-person talks and workshops, and made several meaningful connections with people who were attending the conference virtually.
For us, it was clear proof that hybrid events, when executed thoughtfully, can create real opportunities to connect both virtually and in person. We left feeling energized and excited about what a future of similar events might look like.
We want to know, what were your big takeaways?
If you've made it this far, we'd love to know what some of your reflections from the jam-packed three days were. Does anything we've shared here resonate with you? Have we left something out? Drop us a line and let us know.
The Latest
From the Code for Canada Blog