Bringing Civic Tech and Government Together in Toronto
February 5, 2019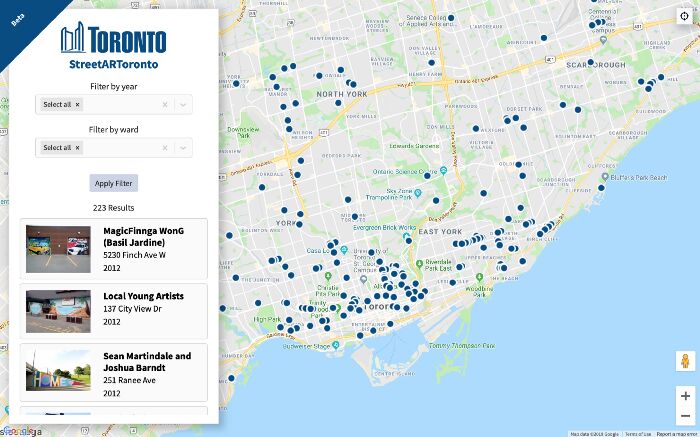 When it comes to technology, there's a persistent misconception that government is slow and resistant to change.
The development of StreetARToronto's new web map busts this myth. StreetARToronto (StART), a team within the City of Toronto, built the tool in just six months and incorporated feedback from users and the community iteratively along the way. And instead of resisting change, they actively sought it out, reaching beyond the walls of City Hall to collaborate with members of Toronto's civic tech community.
"This was my first time working for a government organization," said Shaquilla Singh, a Civic Tech Toronto organizer and software developer working on the web map. She was drawn by the chance to work on an exciting government project, and was pleasantly surprised at how easy working with StART was.
"I had freedom in choosing the tech I wanted to work with." — Shaquilla Singh
Shaquilla noted she was able to focus on meeting and responding to StART's — and the community's — needs rather than sticking to a list of ready-made requirements.
Also joining the project was Howard Tam, principal and founder of the ThinkFresh Group, who worked with Shaquilla and StART to manage the scope, phasing and delivery of the product.
A simple, easy-to-use map of murals and other street art in the city had long been on StART's wishlist. However, progress on the project was proceeding slowly because they were using a traditional 'waterfall' approach to development. Work on the map had stalled because the City was trying to "meet as many needs as possible through one project," said StART's Project Manager, Carolyn Taylor.
Eager to try a different approach, they decided to use a more agile and iterative development process, divided into smaller, more manageable phases. This made it easier for StART to collaborate with members of the civic tech community and quickly start building the first version of the map.
Through Civic Hall Toronto, Carolyn and the StART team were connected with Shaquilla and Howard, who expressed interest in building the map and had the skills to make it happen.
"Working with StART using an agile approach allowed us the opportunity to more directly understand [their] needs, develop a prototype and iterate quickly." — Howard Tam
Feedback was collected from both City staff and local artists at multiple points along the way. The StART team also leveraged Code for Canada's GRIT Toronto program to conduct usability testing with a diverse group of individuals intended to reflect the city's population.
The team was also able to defer, to future versions of the map, features that weren't working and could have delayed the release. For example, Toronto's electoral wards changed in the middle of the development process, so the ward boundaries were removed from the beta.
By November, StART was able to debut the beta version of the map at its 2019 program launch.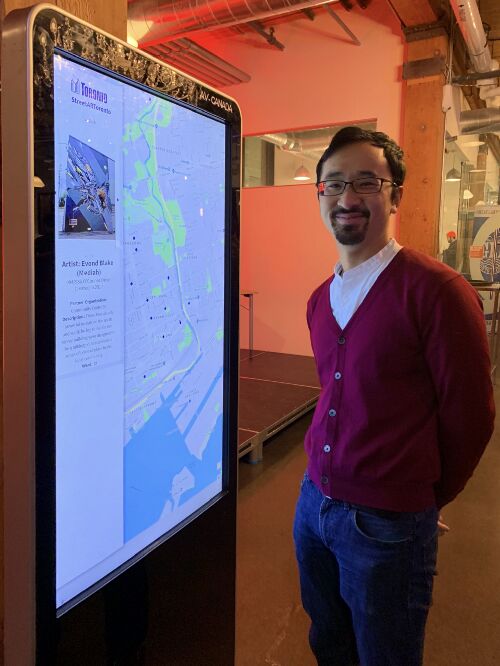 "We brought out key stakeholders," said Howard, including senior management, City staff, artists, members of the civic tech community and the general public, who could try the map out through an interactive display.
With the public beta now available at StreetARToronto.ca, Carolyn and the StART team are already thinking about the future.
They're working to add more art to the map, and to enable artists to contribute images and information about their art. StART also hopes to connect the tool to the new online application form they've developed, so the map can be automatically updated and staff can better track proposed projects and their locations.
Carolyn envisions a time when the functionality of the map and the application form could be applied to other programs at the City that have similar needs, such as the culinary festivals Winterlicious and Summerlicious. She's keen to see how a package of smaller tools could be customized for each program, rather than one large, standardized tool for all.
"If somehow all of this can be connected back to the procurement backend, that would be great," she said.
While the map was only recently released as a beta, there's already been lots of public interest and coverage from many media outlets. It has also generated plenty of buzz on social media, with residents speaking up and requesting art in their neighbourhoods be added to the map.
Torontonians are obviously excited about the city's growing catalog of public art, and thanks to StART's willingness to work and collaborate in new ways, they have a new way to discover it.

Civic Hall Toronto is a non-profit program that enables government innovators, entrepreneurs, technologists and residents to share, learn and build solutions together. To learn more about membership, events, and other programs, visit civichallto.ca.
The Latest
From the Code for Canada Blog