Civic Hall Toronto: Digital Resident Engagement Training Recap

October 16, 2020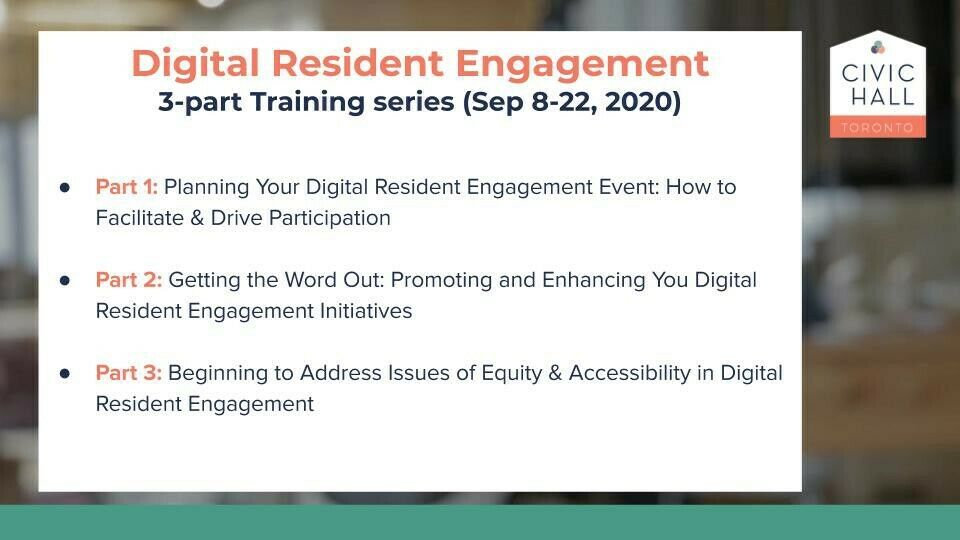 What'd you miss?
This pandemic and our new normal has presented the public sector and nonprofit organizations with an opportunity to reinvent their public engagement toolkits. So, at Civic Hall Toronto, we brought one of Toronto's top civic engagement experts, Lisa Brody Hoffman, to share her expertise with our members. Along with sharing actionable insights in this three-part training series, Lisa shed a light on the importance of building a relationship with residents, valuing residents' lived experiences, and incorporating public consultations into program design and policymaking.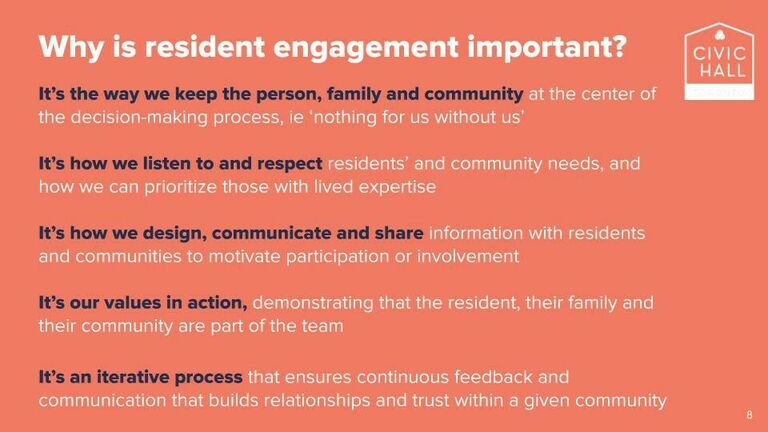 Our top 5 takeaways
Create a seamless run of the show; don't overlook a thorough dress rehearsal
When it comes to planning public consultations, make sure every step is well-thought-out, logistics are planned in advance and speakers and co-facilitators have had a tech walkthrough. Be ready for unanticipated glitches and disruptions, but try to minimize any surprises by a thorough dress rehearsal for the entire team.
Meet your audience where they are
There are countless event hosting platforms with various features and, of course, different security measures. The number one rule of public engagement is 'meet your audience where they are' which in this era can translate to 'choose the platform that works best for your audience.' For younger audiences, Instagram Live and Facebook Live might be better vs. WebEx or Zoom. Also, in some communities, there are already some communication channels (such as Whatsapp or Facebook groups) in place which can be leveraged for promoting your engagement.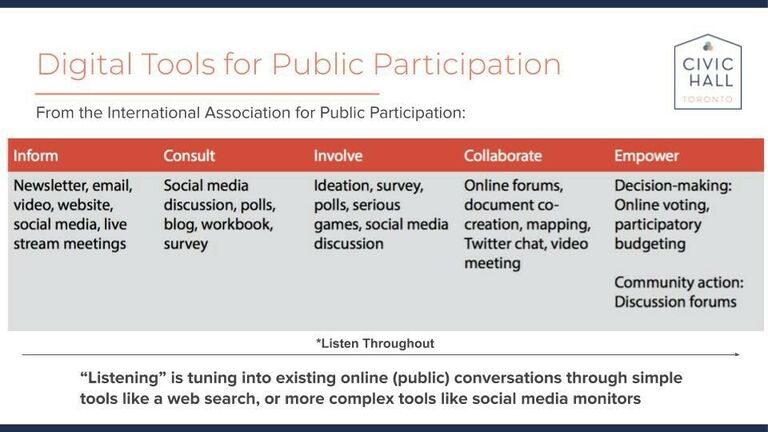 Build public awareness before your consultation event
Education and civic literacy are at the heart of civic engagement. Sometimes communities don't have the resources to speak up and raise their concerns about a civic issue. Before launching your public consultation campaign, you may need to build a public awareness campaign to educate the community about that particular matter. Lisa suggests partnering with other organizations working on the ground and using different media to connect to the public. Be creative and bring local artists and creative minds on board to help you design visually appealing campaign materials.

Demystify the language you use in order to make the event accessible for all residents
Be vigilant about the language being used in your campaign. Language can disengage your audience, or it can encourage them to listen to you and bring their insights to the table. Make sure the language fits your audience and the community you are working with. Also, be aware of your audience's accessibility needs before choosing a hosting platform. For instance, if you are planning to use the chat function, make sure the platform is compatible with screen readers; for residents with auditory impairments, you can provide closed captioning.
Have tech support during the event
No matter how logistically seamless your agenda is, when you roll out a public consultation event virtually, you will require dependable tech support. A tech team can help your audience to navigate their way into or out of breakout rooms, troubleshoot your spotty audio, or, lead a timely response in case any unexpected disturbances or surprises happen.
An anecdote from our audience
The highlight of this training series in our participants' eyes were the numerous case studies discussed throughout the sessions. Lisa shared various real-life examples, which "made complicated content simple" … and "provided actionable, bite-sized advice." The audience really felt that Lisa walked the talk, showing us how to share the floor with participants and make them comfortable enough to express their views and raise questions.
Civic Hall Toronto events showcase examples of civic innovation, and provide opportunities for members — and the public — to network, learn, and work together. If you're curious and would like to attend our next event, check out our calendar here.
The Latest
From the Code for Canada Blog