Civic tech the Maritime way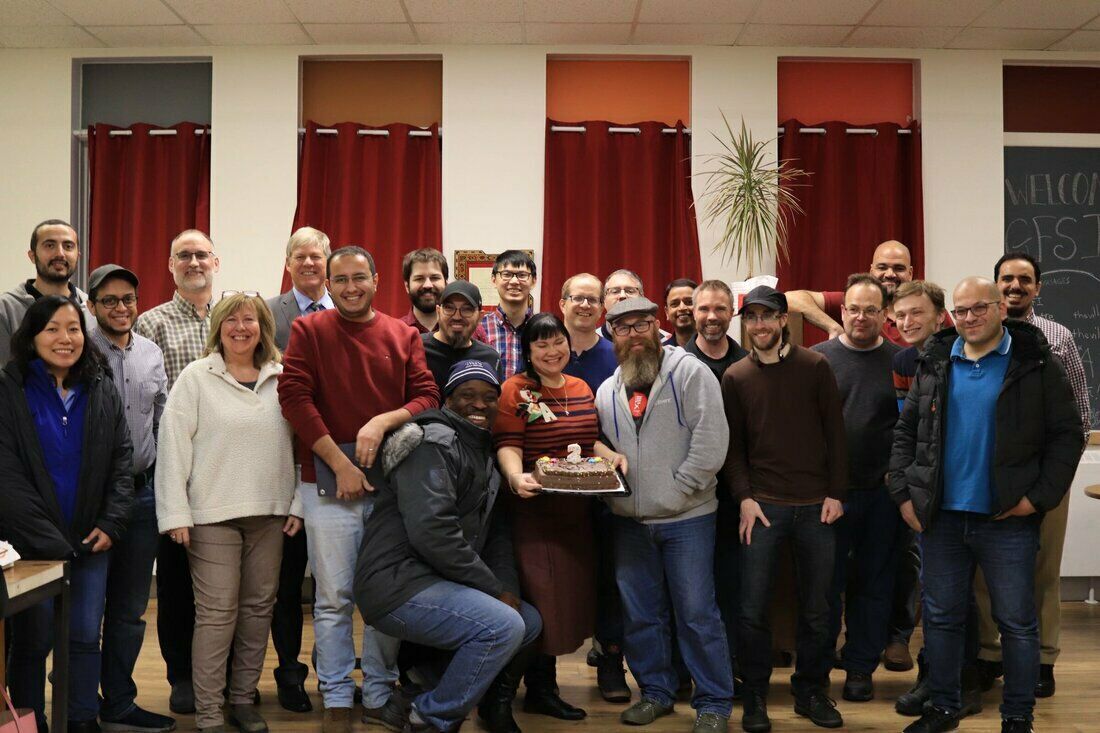 Civic Tech Fredericton is one of Canada's newest civic tech community groups, but don't let their age fool you. What started with a handful of organizers in 2017 has quickly grown into a dedicated group of over 30 civic techies making positive impacts in their region.
Their first project, a flood forecast app, was adopted by the Government of New Brunswick. Since then, the group has worked on a Caring Calendar to coordinate resources for people who are experiencing homelessness and mapped the accessibility of bus stops for seniors.
"I feel like in the Maritimes, it's just different. We have a different level of connection," says CTF co-founder Sandi MacKinnon "Our tech community wants to give back, but they don't want to sell raffle tickets or work at a registration booth. They want to use their skills to work on interesting projects."
Creating a community
Sandi attributes the group's rapid progress to a strong sense of community. From summer barbecues together to winter potlucks, "we really are a family," she says.
From the beginning, organizers set a tone of caring for one another, always remembering names and really getting to know the people who joined. The group celebrated birthdays and major milestones. Even with the switch to virtual meetings, they always start hacknights by checking in on how everyone was doing.
And when Sandi noticed one of their newest members, a recent immigrant, was still wearing sneakers in the middle of winter, Civic Tech Fredericton members all chipped in to surprise them with a pair of winter boots.
"It's the looking after each other that matters," Sandi reflects. "Those are the things that are really important - being kind and open hearted and connecting with people."
Welcoming newcomers
Civic Tech Fredericton has also become a gathering place of sorts for newcomers to Canada. Through her job as the Executive Director of Greater Fredericton Social innovation, Sandi connects with placement agencies and welcomes those interested in tech and design to join hacknights. Now, over half of their members are immigrants.
"Having a global perspective has really changed the dynamic of our team," Sandi notes.
When two students, just arrived from Syria, were struggling with the transition, two CTF members fluent in Arabic stepped up to mentor the students. They gave advice on navigating workloads and assisted with translations.
Their efforts to support newcomers didn't go unnoticed, and the Civic Tech Fredericton community was given an intercultural award by the City in 2019.
Building bridges between community and government
Civic Tech Fredericton takes a bit of a different approach to civic tech, working with non-profit organizations to identify -- and solve -- local challenges. Organizations are welcome to attend hacknights and pitch their projects. Group members then vote to decide what they'll take on.
"Their needs are vast, and the support you can give can create such impact," Sandi said.
As part of the City of Fredericton's task force on homelessness, the community mapped out the many services faith-based organizations provide to people experiencing homelessness. But there was one major problem: these organizations were working in silos. They couldn't easily coordinate services, identify gaps, or provide referrals.
Civic Tech Fredericton members created a tool that could unify the different support services offered. Initially, they consulted with the leaders of partner organizations to learn about their pain points and needs. But they soon discovered that the administrative staff at these organizations would be the main users of the tool. Pivoting their focus, designers and developers created the Caring Calendar platform with the needs of the administrative staff in mind.
"So it was just figuring out what our community needed and the community led us forward," said Sandi.
Civic Tech Fredericton also has an official partnership with the City of Fredericton and often hosts the Mayor and local politicians for drop-in visits. After developing a tool to monitor flood levels and sharing it with their government partners, the director of the New Brunswick Emergency Measures Organization and the provincial Minister of Justice and Public Safety participated in a ribbon cutting to celebrate the launch of River Watch.
While the group doesn't develop tools directly for government, their relationship with local decision-makers has helped expand their impact. Group members have often been asked to present their work to government departments and they've even been tapped to weigh in on Fredericton's 'smart city' policies.
Growing the movement
On top of everything they've accomplished, the CTF community also helped Civic Tech Saint John get off the ground in early 2020 -- and there's talk of a budding civic tech group in Moncton as well. Sandi wants to keep the momentum going, and has been compiling her group's learnings and resources into a civic tech playbook for Atlantic provinces.
"We're going to push over the next year to really grow the civic tech movement, the Maritime way," she says, proudly.
Learn more about Civic Tech Fredericton by connecting with them on Twitter or dropping into a virtual Tuesday evening hacknight. If you're interested in growing the civic tech movement in the Maritimes, connect with Sandi at CivicTechFredericton@gmail.com.
There are civic tech community groups in cities all across Canada. Check out our website to find the one nearest you.

The Latest
From the Code for Canada Blog