Hacking on Bike Parking at Toronto City Hall
July 25, 2018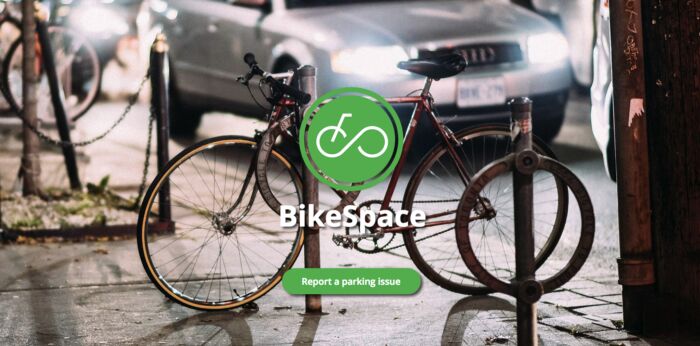 With more Torontonians choosing to commute on two wheels instead of four, there's a growing demand for bicycle parking in the city. So, how are municipal officials deciding where to install more bike racks?
Simple: they're asking the people who use them.
BikeSpace is an exciting new collaboration between the City and Civic Tech Toronto — a community of residents using technology and design to address local issues — that's putting the power to report bicycle parking issues in the hands of cyclists. With a few taps of a mobile screen, cyclists can now highlight spots where new bike parking is needed, report broken and full bike racks, and flag spots occupied by abandoned bikes.
The free, community-built web app will help City staff, businesses and property managers in Toronto improve bicycle parking facilities. But it's also something more: an example of how civic tech can serve as a model for collaboration between government and the public.
"The community's involvement in BikeSpace has been significant. A group of really passionate citizens have injected a ton of creativity to make it what it is today," says Adam Popper, a project manager for the City of Toronto's bicycle parking strategy.
That sentiment is echoed by Arthur Klimowicz of Cycle Toronto, a cycling advocacy organization. "This group is really great to work with … there's a real app, and they're working with us to see what cyclists want," he says.
Working in the Open
It's Thursday night at Toronto City Hall. It's quiet, and most people have gone home for the day. But just past the security desk, behind a glass partition adjunct to the main lobby, the BikeSpace team is seated around a table, hunched in front of their computers.
"I like the optics of this place. Once everyone at City Hall has headed home, the place is taken up by civic hackers, working in the open, right in the fish bowl of the lobby," says Jake Miller, the project manager for BikeSpace.
For the past six months, the BikeSpace team has been meeting at City Hall's Civic Innovation Office to work on the platform. Miller is joined by volunteers from Civic Tech Toronto, energized by the chance to work on a collaborative project with the City.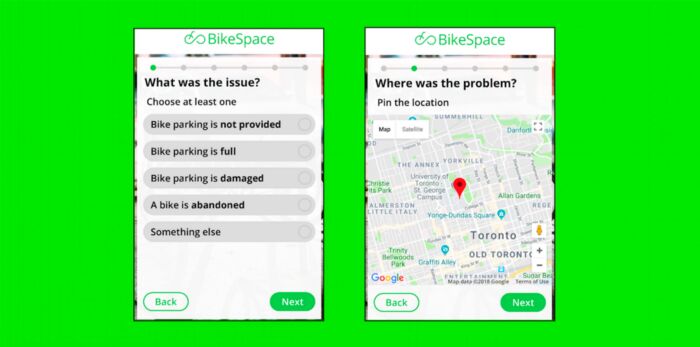 "BikeSpace has consistent support from all stakeholders, including the City of Toronto itself. It has had, from the beginning, a diverse set of viewpoints," says John Spragge, a Civic Tech Toronto participant and BikeSpace developer.
After reporting a bike parking issue, BikeSpace users are asked to place a pin on a map where they encountered the problem. They can also take a photo to document their experience. Their input contributes to a public dashboard that maps where bike parking concerns are reported in the city.
"The dream is that all bike parking providers use the data. I think it's going to be usable for the City to determine where new public bike parking can be located, and it's going to be used by landlords, who can use the data to make their tenants happier," says Miller.
"It can also be used by advocacy groups who can then say 'here are the hotspots, here are the neighbourhoods that need bike parking most.'"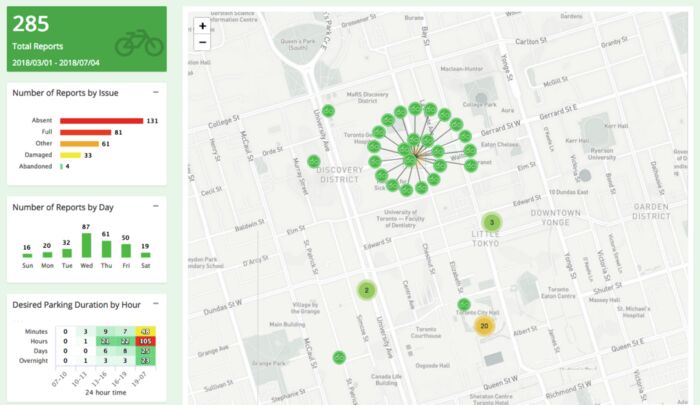 The Case for Co-creation
Collaboration between the City of Toronto and the local civic tech community has been at the centre of the BikeSpace project. City officials not only provided desk space, they also made themselves available to the BikeSpace team for consultation and provided the original kernel for the project at a Civic Tech Toronto hackathon.
"It made sense as a civic tech project," says Popper. " Bike parking not only a city responsibility, it's a private property problem too. Who owns the problem of bike parking? It's everybody. If we want to put tools in the hands of the public, who better to create these tools than citizens and cyclists?"
"Community ownership of the app and the data means the tool can include reporting of any community accessed location, private or public, that cyclists think needs attention," echoed Jason Diceman, a senior public consultation coordinator at the City of Toronto.
The project is also good financial value. Traditional software procurement can be an expensive proposition for tight municipal budgets, and can cost taxpayers into the hundreds of thousands. BikeSpace is developed by the community, for the community. And because user testing is handled by members of the public, there's potential for the platform to be released more quickly than other digital projects.
The entire project is open source, meaning there's an opportunity for other municipalities facing bike parking issues to fork it and create their own version of BikeSpace.
"It's us being good global citizens, contributing to the pool of open data and open source code. We use from other people's code, and other people will use our code from this," said Diceman.
The BikeSpace desktop site and mobile-friendly version are ready for use by Toronto's cyclists. Learn more about BikeSpace at bikespace.ca, and try the tool for yourself at app.bikespace.ca.
The Latest
From the Code for Canada Blog