What We Learned at Our First In-Person Retreat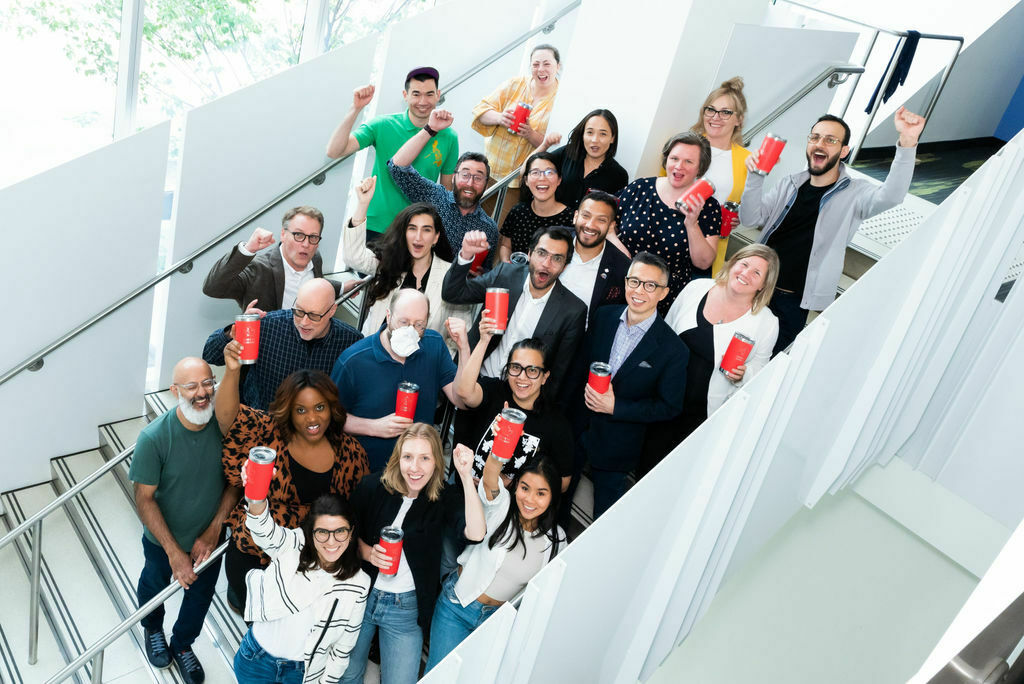 At Code for Canada, we're always looking for new ways to work together as a team. That's why earlier this month, we tried something different — our first-ever in-person retreat since going remote-first in 2021.
All of our "HQ" staff and several board members came together for two jam-packed days of workshops, talks and good-old-fashioned hangs.
Here's what we dug into.
The importance of examining our values
After a welcome dinner the night before, we arrived bright and early on the first morning of the retreat, ready to dive into an important topic — our organizational values.
Led by Allen Hirsh — founder of NextGenLeaders — we wrote out a list of possible values we wanted to explore as a group.
Each value was given its own large sheet of paper, and our staff walked around to each one in turn, writing down what the value meant to them in the context of our work.
Then, we were each given time to vote on the values that resonated most with us.
Collaboration, inclusivity and transparency were top contenders, and we talked them through as a group. How did a particular value come up in our day-to-day work? What did it mean in relation to our mission and vision?
Finally, we broke into groups and workshopped one-word sentences that summarized each value.
The exercise set the tone for the retreat — what are the beliefs, priorities, and rules guiding our work? What did we want to accomplish as a team moving forward? It also got us working together in person, setting the stage for what was to come next.
Digging into agile
In the afternoon, it was time for our Director of Digital Transformation, Paul Crossley, to shine.
Our HQ staff and board have a wide range of backgrounds and skills — from operations experts to wordsmiths (😉) and everything in between.
Because of this, some of us have a stronger understanding of agile practices than others — and even those who know it well are sometimes working with a different vocabulary. We ask our partners to embrace agile, so we knew we had to make sure we were walking the walk.
Paul led an afternoon of "Agile 101," which included everything from the history of agile, to a spirited marshmallow tower-making competition.
He capped off the session with a hands-on activity to demonstrate the power of agile. While not exactly the products we usually ship at C4C, Paul had us divide into groups to make paper airplanes.
First, we used a waterfall methodology — designers, developers and product managers working in silos and handing off different stages of the work to one another — followed by an agile approach — working together as a group to test different iterations of the airplane.
By the end, each of us had a united understanding of what "being agile" meant and were excited to bring it into our work with our partners.
Embracing feedback
On the second day of the retreat, Allen had us focus on the different emotions and perspectives we bring to our work.
After taking a quiz that outlined how some of our perceived strengths can also sometimes hold us back, we broke into groups to discuss how our baseline personalities and preferences manifested in the workplace.
It was the groundwork for a bigger conversation about how we each give and receive feedback. Allen walked us through some best practices, including starting with an observation, describing your unique perspective, and then providing a possible next step.
At C4C, much of our work is about how to do things differently in the interest of continuous improvement. That means never accepting "that's how it's always been done" and holding space for the challenging conversations that follow.
By examining our own challenges with giving and receiving feedback and reviewing best practices, we're hoping to head into the second half of the year ready to have difficult but productive conversations.
Connecting Across Teams
While we learned plenty of interesting and useful things at our retreat, one thing we were most excited about was the chance to connect IRL.
We had many discussions about who was surprisingly tall, had face-to-face lunch chats, and generally enjoyed spending time together as an organization without having to schedule a video call. For many of us, it was the first time meeting face-to-face after months of working together.
We were also able to bring some of our Toronto-based Collaborators together for a team visit to a Blue Jays game. It was several people's first-ever baseball game, and we had fun watching together (and seeing how many hot dogs we could consume at dollar hot-dog day).
We're still exploring different ways to build social connection in a remote-first workplace, but this in-person gathering felt like a great step in the right direction.
Our Big Takeaways
We came away from the retreat with:

A shared set of values, and an understanding of what they meant to us

A common language to discuss the work we do

A toolbox for navigating difficult but important conversations

A renewed bond as an organization
While we love being a remote-first workplace, the retreat showed us the importance of dedicated time together. And — while nothing's official yet — we're definitely planning to host more in the future.
Want to learn more about what it's like to work at C4C? Visit our careers page or drop us a line.
The Latest
From the Code for Canada Blog