Now boarding for government travel

October 3, 2019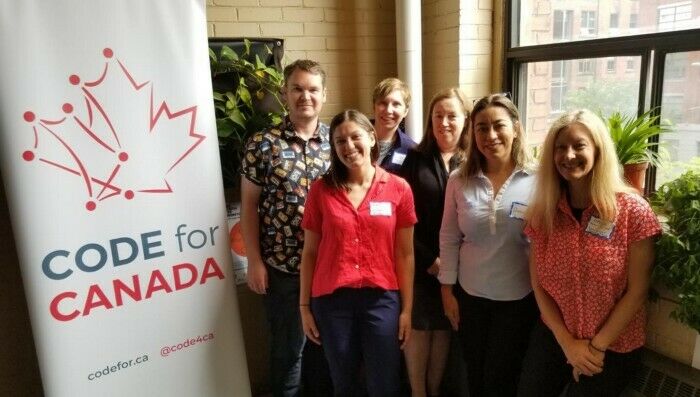 Hi! We're Maddy, Andrea, and Mike, the Code for Canada fellows working alongside the Next Generation (NextGen) Travel Program at Public Services and Procurement Canada (PSPC) to reimagine the Government of Canada travel service.
Get to know more about us over here, on our blog!
PSPC is one of the cornerstones of the Government of Canada. From every cheque the Government issues, to maintaining Parliament Hill, and from small to large purchases (think sticky notes to fighter jets), PSPC is there.
And when public servants travel for business — for conferences, diplomatic talks, national defence training, ship inspections, or for research — PSPC gives them the tools to make it happen.
NextGen Travel is tasked with re-imagining what the future of business travel in the Government of Canada could be. If we can make booking easier, save time when submitting an expense claim, those time savings can add up to hours, days, and weeks that public servants can spend focusing on their work: making Canada a better place for you.
All aboard the fellow-ship
Upon arriving on-site with our partners, we dove into three areas to understand the problem space — the processes that exist today, the policies that govern travel, and the people and stakeholders involved.

Our early exploration surfaced complex dependencies: there are 50+ project stakeholders, there are unique needs across 96 departments, and there are 13 policies and directives that govern travel.
Full steam ahead
Helping more than 300,000 public servants plan their travel is no small task.
Before we arrived, NextGen Travel consulted with over 750 public servants across the country to hear about their business travel experiences. Public servants expressed a need for culture change, updates to policy, an improved user experience, and a need for a mobile-first digital solution.
Every public servant we've met is committed to being a good steward of taxpayer dollars; they want to work within the rules and travel as cost-effectively as possible. But complex policies or tools can make that difficult, or at least really time consuming. Imagine trying to find a hotel room in downtown Calgary during the Stampede, or for the same night as a Toronto Raptors final game — the normal nightly rate limit might not cut it. Cases like these require navigating layers of guidelines, policy interpretations and approvals. Following all these rules can sometimes be hard to navigate. This distracts from important work, and can make public servants feel frustrated at best, or untrusted at worst.
It's old hat by now, but we're fans of Tom Loosemore's definition of digital: "Applying the culture, practices, processes & technologies of the Internet-era to respond to people's raised expectations." Consumers have a wealth of choice when booking personal travel, and the bar for business travel has definitely been raised. Future systems and services need to meet these expectations by being more efficient, user-friendly, and accessible.
As fellows, we're not the whole picture; we're a small piece of the puzzle. Over the next year, we're not going to write an algorithm that calculates a solution to the complex system. We're going to experiment, poke and prod at different pieces, and ask "why?" or "why not?".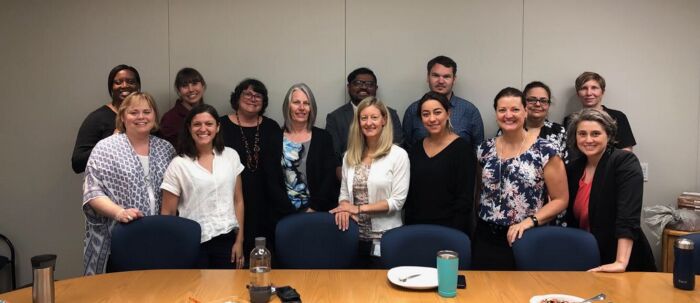 Early and rapid experimentation
One thing we heard time and time again is that there are many policies and rules to consider when travelling. Depending on your department, the policy can be interpreted differently, and understanding how to apply relevant rules and policies can be frustrating.
Starting with that feedback, we designed a prototype: a "policy guidebook" for travellers to explore travel-related topics and search for relevant policies and departmental interpretations of those policies.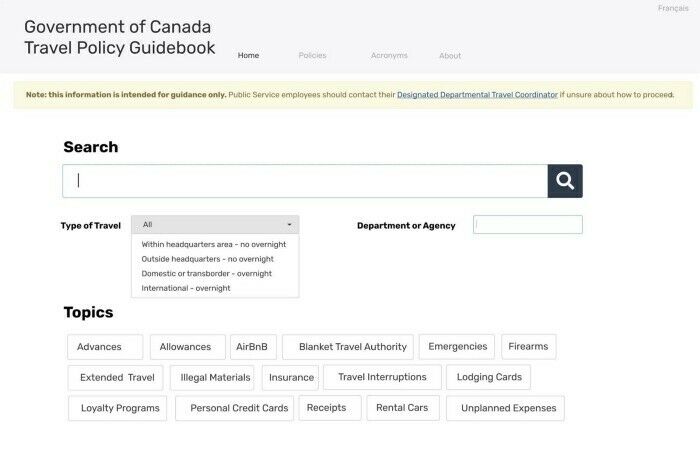 A prototype is meant to test an idea, and get real data from your users. This helps determine whether to continue in that direction or, in the face of new information, pursue a different hypothesis.
We learned some key things by showing that prototype to our users. First, there is a divide between new or infrequent travellers, and those who travel more often. Newer travellers were more likely to report that identifying and interpreting policy was a challenge. Second, we learned that travellers need assistance to understand what they need to do before, during, and after their trip. Third, users told us that it's interesting, but potentially distracting, to see policy interpretations from other departments. We heard that local context really matters, and users were less likely to rely on an interpretation from outside their department.
That was it! We built something quickly, showed it to people, and learned from it. We might never touch that prototype again, but we're better informed for the next one.
What's next?
We're preparing for design research, where we'll dig further into the end-to-end travel process and continue to identify areas of opportunity for experimentation.
Through more of these quick experimentation cycles, we hope to make a big impact; or perhaps more accurately, a small impact for many people that adds up to countless hours saved across the public service. And that's what it means to work at the scale of government.
Thanks to all the folks at NextGen Travel, CDS, and PSPC Cloud Services for helping us navigate these early days!
The Code for Canada fellowship embeds technology professionals into government, where they work alongside public servants to build great digital services. To learn more about becoming a fellow, or hosting a team of fellows in your department, visit codefor.ca/fellowship.
The Latest
From the Code for Canada Blog