Meet a Civic Hall Toronto Member: Toronto Solid Waste Management Services
November 29, 2018
Civic Hall Toronto's government members are always striving to use technology and design to better serve residents. This series introduces readers to our members, and the innovative work they're doing inside and outside of City Hall.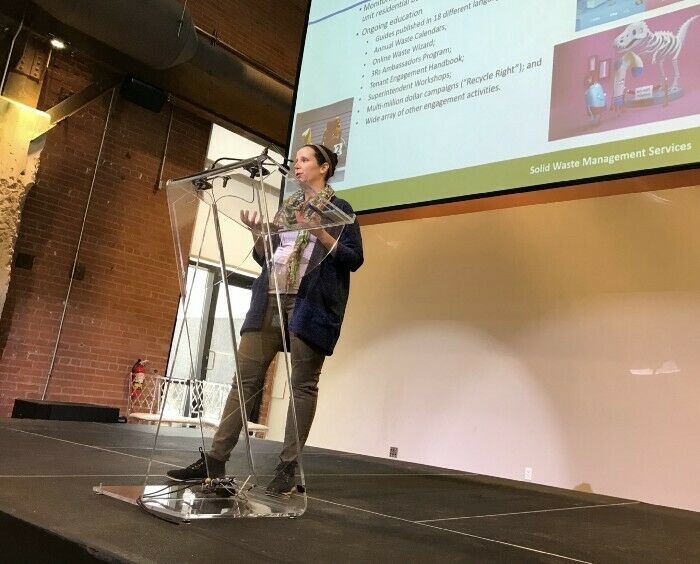 The City of Toronto's Solid Waste Management Services division is responsible for collecting, processing and disposing of waste in the city, from garbage and organics to household hazardous items and e-waste. They serve over 900,000 homes and businesses across Toronto, in addition to thousands of street and park bins.
The scale of this work can lend itself to a focus on logistics and operations, but Toronto's Solid Waste division takes a more holistic approach to service delivery, and is exploring ways the city — and its residents — can reduce the amount of waste being generated. Through the implementation of the Long Term Waste Strategy, the department aims to transform Toronto into a zero-waste city with a circular economy over the next 30–50 years.
As part of this transformation, Toronto has a target of diverting 70% of its waste from landfills by 2026.
"To achieve that ambitious goal, we recognized that we had to find new ways of tackling the City's waste challenges," said Annette Synowiec, Acting Manager of the Unit for Research, Innovation and Circular Economy within the Solid Waste division.
Her unit was created just one year ago to do exactly that: run pilot projects, test new digital tools and methods, develop strategic community partnerships, and meaningfully engage Torontonians in the transition to a circular economy.
Annette's unit is interested in using human-centred design as a tool for public engagement, which led them to join Civic Hall Toronto in September.
"Connecting with members of the community that we don't typically have conversations with means we can engage them in our waste diversion programming and ensure it meets their needs," she said. "We decided to work with Civic Hall Toronto because it would give us the support and training we were looking for."
Since then, they've gained insights into new ways of working internally, attended training workshops, and shared their training spots with other city divisions keen to explore new approaches to engaging residents.
Recently, Civic Hall Toronto worked with Annette and her team to run a design sprint, where residents and city staff used human-centred design to imagine ways to address the problem of contamination in the blue bin recycling program. They wanted to better understand how to help Torontonians better sort their recycling, thereby diverting more waste from local landfills.
Annette said the design sprint gave her team insights that may have been missed through traditional forms of public feedback (like focus groups or surveys). In particular, they learned more about how different audiences want and need different amounts of information — for instance, highly engaged recyclers want to know why something's not recyclable, while less engaged recyclers want simple, basic information on what belongs in each bin.
Moving forward, Annette's team is looking at refining the event and running design sprints throughout Toronto. The larger goal is to build capacity within the Solid Waste division, helping them adopt human-centred design approaches for other programming and events. They are also excited to share their work more broadly, so that other City of Toronto divisions, as well as municipalities across Ontario, will see the value of using design sprints to engage residents around civic challenges.
"We're not aware of any other municipality that has used human-centred design to tackle recycling contamination," she said, but thanks to the Solid Waste division's work at Civic Hall Toronto, that may soon change.
To learn more about Solid Waste Management Services' work on waste reduction and the circular economy, check out their website.
Civic Hall Toronto is a non-profit program that enables government innovators, entrepreneurs, technologists and residents to share, learn and build solutions together. To learn more about membership, events, and other programs, visit civichallto.ca.
The Latest
From the Code for Canada Blog